Participant Information
Sample Event


Join us on sample date
2017 Route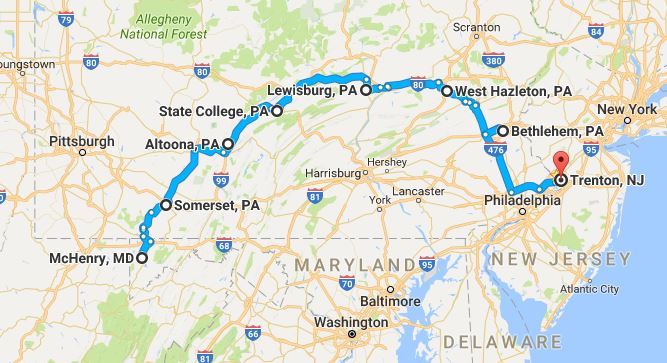 July 8 -15, 2017
Welcome from the Ride Committee
We believe that the Ride is a unique and compelling experience both because of the physical challenge and the emotional connection to a diverse group of people who share a passion for helping the kids of Anchor House.
The Ride Committee is dedicated to making the Ride a safe and enjoyable experience that can be enjoyed by riders of all levels and abilities. To that end we will help you prepare and train for the Ride as well as provide a dedicated support team to help you during Ride Week. For our new support team members, we thank you immensely for the amount of time you will be dedicating to our riders. We have a great team of veteran support members that will assist you in any way possible.
Please remember that all participants are a representative of Anchor House while fundraising, training and during the week of the ride. We expect you to follow safe riding rules while training and during Ride Week. We also hope you recognize that the purpose of the Ride is to raise as much money as possible to keep the programs of Anchor House going.
We encourage you to become familiar with this website as this is how you will get information on the Ride and our expectations for you as an Anchor House Ride for Runaways participant. As we get closer to the Ride, more and more information will be posted to the website. Additionally, many of your questions can be answered by looking on the website, however if at any time you have a question you can't find an answer for, please don't hesitate to ask one of the Anchor House Ride for Runaways Committee members. We're here to ensure your Ride is successful, rewarding, and most importantly, safe.
Whether this is your first time or you are a seasoned veteran, we want to say thank you on behalf of the kids, because our commitment to you is based on all of our commitments to the Anchor House kids. After all, they are counting on each of us!
We appreciate the time and sacrifices that you and your families will make to participate in this Ride. Please contact anyone on the Ride Committee if you have any questions - we are here to help you.
Thanks again for your time and effort to make this a successful Ride and to help the kids of Anchor House.
Ride Safe - Ride Smart,
The Anchor House Ride for Runaways Ride Committee


Welcome from the Executive Director

For over 38 years, Anchor House has expanded its territory to impact the lives of children, youth and young adults. What began in 1978, as a need to shelter young peo
ple who had runaway has now been expanded to not only provide a shelter but school outreach, transitional and supportive housing, and street outreach to youth, ages 12 to 21 years o
f age
, from Mercer County and throughout the state of New Jersey.
If this is your
first rid
e or you are a veteran rider, you should know how invaluable your support is to us — how much our kids so desperately need your support in their lives. You are a part of a solution — a solution to help children who are hurting and in need, a solution to stabilize families and a solution to help our young people transition successfully into adulthood. While you are riding, know that you are riding with a cause and for a purpose — to make a difference in the lives of our children.
Kim McNear, Anchor House Executive Director


What is the Ride for Runaways?

The Ride for Runaways is an annual, 7 day, 500 mile charity bicycle ride that exists to support Anchor House. 1979, a group of concerned citizens founded Anchor House, a shelter for runaway and/or abused teenagers. The Anchor House founders used the analogy of a ship to keep it safe in the storm to visualize the mission of the agency. The anchor is supported by links of its chain, which in turn keep the anchor tied to the ship. The founders understood that life's circumstances can cause the links of a family's chain to break down. They created Anchor House as a stabilizing place for runaway, homeless, and abused youth. It is a safe place to rest, wait through the storm while in crisis and a way to move on when the crisis is calmed. Today, Anchor House has grown into with programs that meet the needs of, teens and young adults. Visit the Anchor House site to learn more about Anchor House and it's programs. (put AH link here)
That same year a small group of young bicyclists created "The Ride for Runaways" with a goal of raising funds to keep the doors of Anchor House open. The first riders rode from Florida to Trenton to earn the pledges promised by their sponsors.
Today, The Ride for Runaways continues as an annual event with nearly 200 bicyclists and over 30 support volunteers participating. Our riders represent all walks of life and all ability levels. If you think you might like to join us and would like to know more about the ride, click here continue reading.
Applications are available, here on the website, in January for the coming summer's ride.


Frequently Asked Questions about the Ride
What is the average number of miles per day?
Approximately 75 miles. Depending on your speed and the route, this is about 4-8 hours of riding.
Are there bathrooms along the route?
There are often bathrooms at the SAG stops but not always. Try to find a gas station, restaurant, church or convenience store. Consider purchasing something small as a courtesy and ask if they would like you to remove your bike shoes. If the route is on a rural road, use a secluded spot in the woods. That's why we recommend carrying tissues in your bike pack!
What does Anchor House provide?
Your room at the hotel (4 to a room), snacks and water at the SAG stops, and support along the route. Also, one night during the week there is a free banquet meal. Otherwise, you are responsible for purchasing your own meals, so plan to bring the appropriate amount of money (approximately $200.)
What time do we start in the mornings?
Riders are welcome to leave any time the yellow truck is open, between 5:30 and 8:30 a.m.
What goes on in the evenings?
The main event in the evening is eating. People group up and go out to eat and it is easy to find a group to join, but you have to ask. Ask roommates or people you meet during the day if you can join them for dinner. There are awards at the yellow truck every evening; the time of the awards will be announced in advance or posted on the yellow truck.
Will I have to ride alone?
There are riders at every pace. You will easily meet people and hook up with them. Often you will find people on the training rides. We strongly recommend that you find someone to ride with for your safety (and your sanity).
What if I can't complete the ride?
There are rovers who will be riding the route to make sure everyone is OK. If you need assistance, you can signal them with a thumb down and they will pick you up and take you to the next SAG stop or to the end of the day's route.
What if I have problems with my bike?
A bike mechanic will be available at the start and end of each day. He will also travel the route and be available at the SAG stops. If your bike breaks down along the road, a rover will transport you and your bike to the next SAG stop and notify the mechanic. You are responsible for fixing minor problems yourself (such as a flat tire or dropped chain).
What if it rains during the ride?
It almost never rains, but if it does you will be expected to ride, and need to be prepared to ride. In the event of severe weather the Ride Committee will decide whether or not it is safe for riders to be on the road. Safety vests are mandatory on days of poor visibility and will be provided by Anchor House.
During the week, what will happen to my butt?
This is certainly an area to take seriously. Make sure you have a good bike seat, good padded bike shorts, and have trained sufficiently. Part of your training is getting your butt ready. Some people find that using baby powder or diaper rash cream is helpful for irritation. As the week wears on this will not be a sensitive subject; people will speak openly about remedies.
2017 Calendar of Events for Ride Participants


Event

Date

Time

Location

Meeting for New Riders

Sun March 5

1pm

Anchor House,

482 Centre St, Trenton NJ 08611

Bike Session for New Riders

Sun March 19

1pm

St. James Gymnasium 115 E. Delaware Ave, Pennington NJ 08534

Meeting for Veteran Participants

Th March 30

7pm

St. James Gymnasium 115 E. Delaware Ave, Pennington NJ 08534

Tour de Manure-32 mile
training ride

Sat Apr 15

10am

Hopewell Valley Central HS Parking Lot; 259 Penn-Titusville Rd Pennington
08534

Hilly Training Ride - 62 miles

Sat May 13

8am

Hopewell Valley Central HS Parking Lot; 259 Penn-Titusville Rd Pennington
08534

Hilly Training Ride - 62 miles

Sun May 21

8am

Hopewell Valley Central HS Parking Lot; 259 Penn-Titusville Rd Pennington
08534

Cory's Ride

Sat June 3

Rosedale Park

All Participants Meeting

Th June 8

6pm

St. James Gymnasium 115 E. Delaware Ave, Pennington NJ 08534

Bike Loading

Th July 6

5pm

TBD