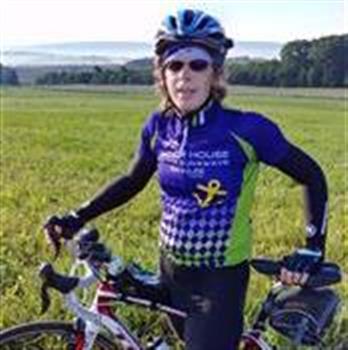 Edit in profile section
Denise Bowker's donation page for the Anchor House ride.
Denise Bowker
This year marks my 6th year on the Anchor House Ride. In the previous 5 years, I've met some wonderful people doing fabulous work. The youth this program helps are provided with not only housing but more importantly LOVE and SUPPORT.

Some of the kids in the program were/are runaways not of their own choosing. Imagine a child saying "mom, dad, I'm gay" and their so-called parents say "Get out! You are not welcome here!" In some cases, the kids have nothing but the clothes on their backs.

I spend my spring and summer riding, training, advocating for these kids. The ones who have nothing but love and confusion in them.

Anchor House gives these kids hope, guidance, inspiration and helps with navigating the educational-financial system. I have met some of these kids who were about to graduate from college with 4-year degrees in STEM fields. These kids are bright, well adjusted and have their whole lives ahead of them.

This is my opportunity to pay-it-forward for all the love, support, and generosity I've received over my life.

There is a 4-minute video about the ride and what Anchor House is all about on YouTube. I created a shortcut at bit.ly/aboutanchorhouse

Thank you all for your consideration in donating to a wonderful organization.